AS YEARS GOES BYS ABLANKPAGE X EDWIN

Larprojpaiboon Phoovadej
Shun Ishizawa


A/W '23 | Tokyo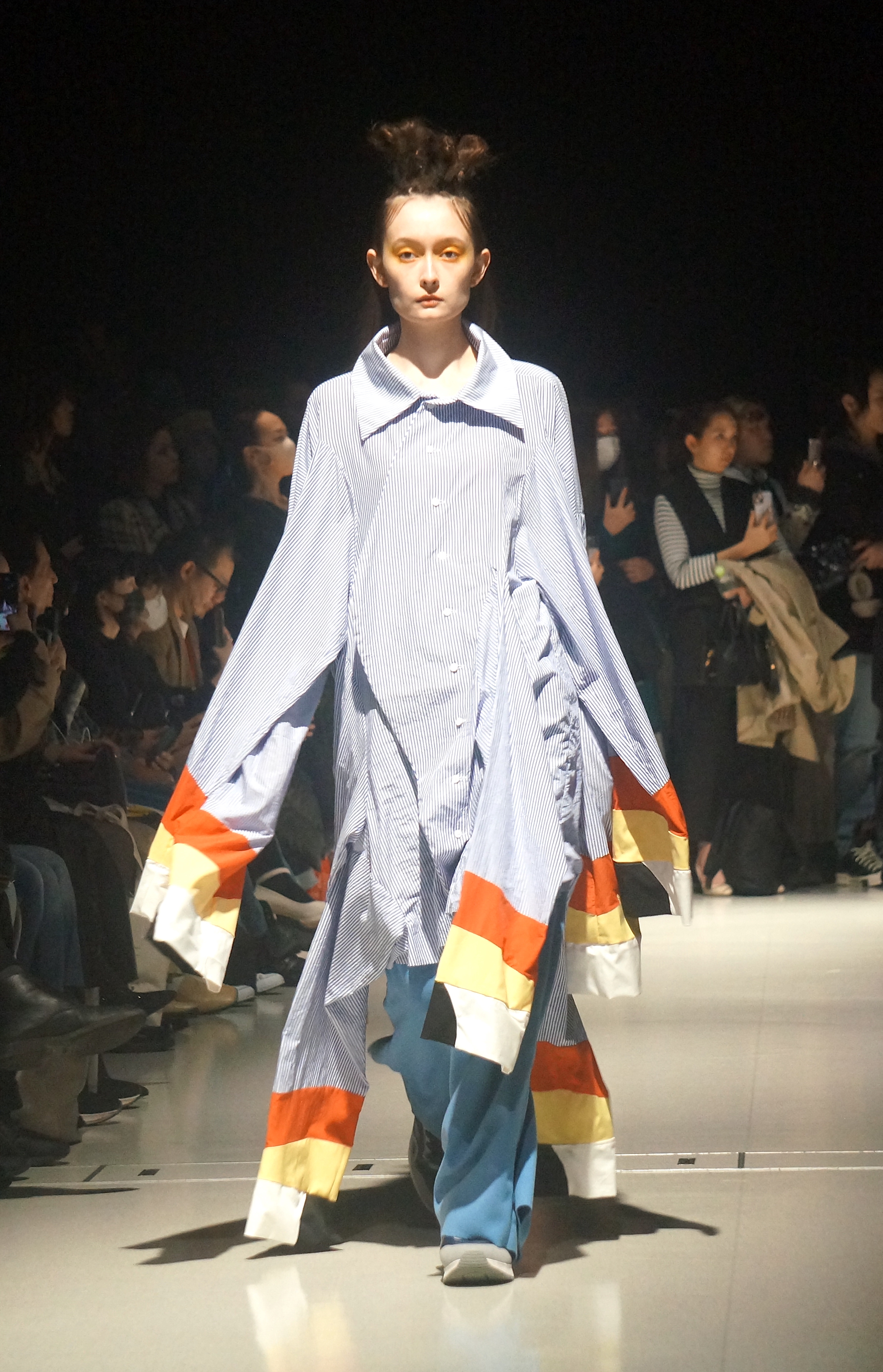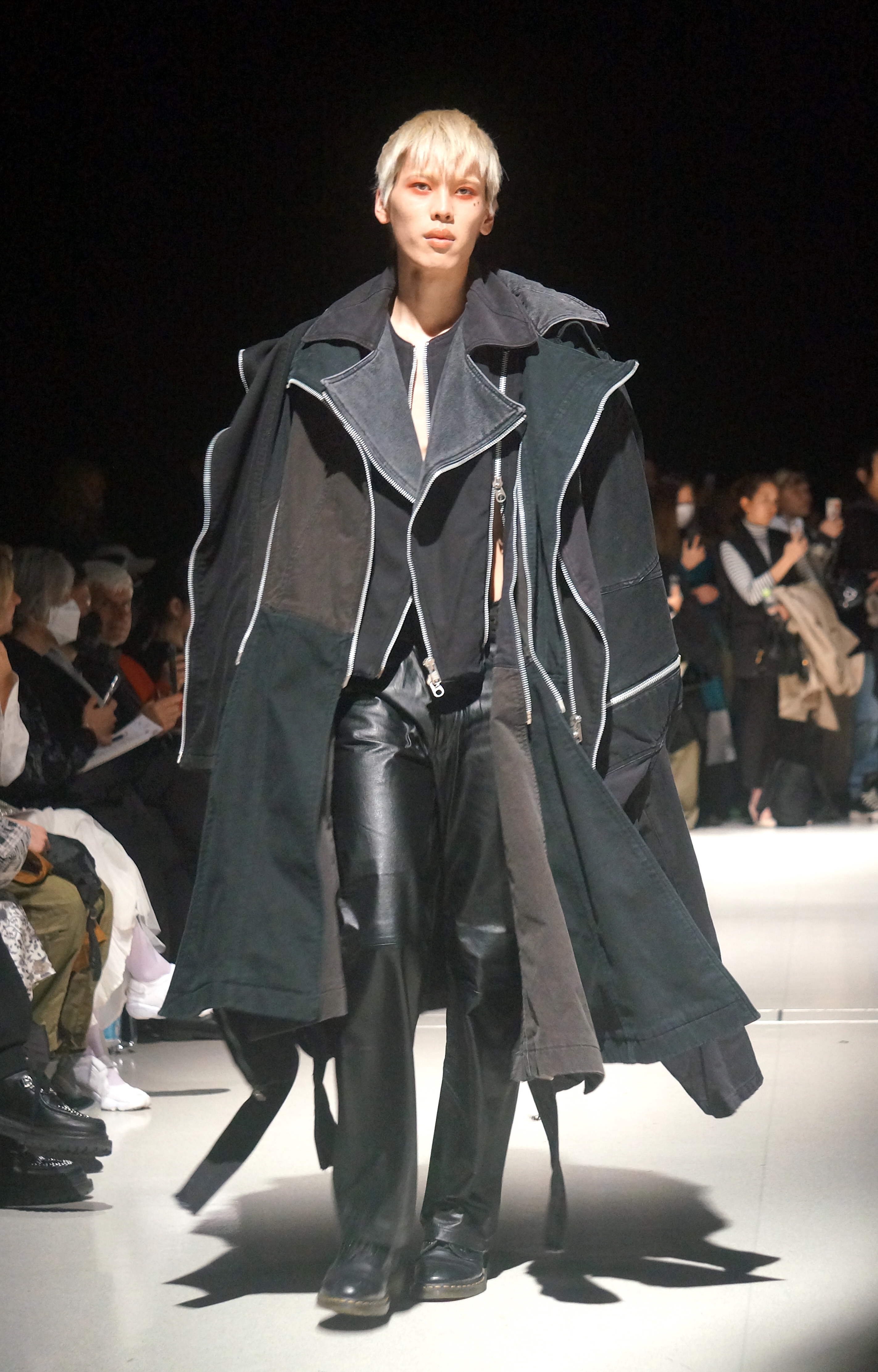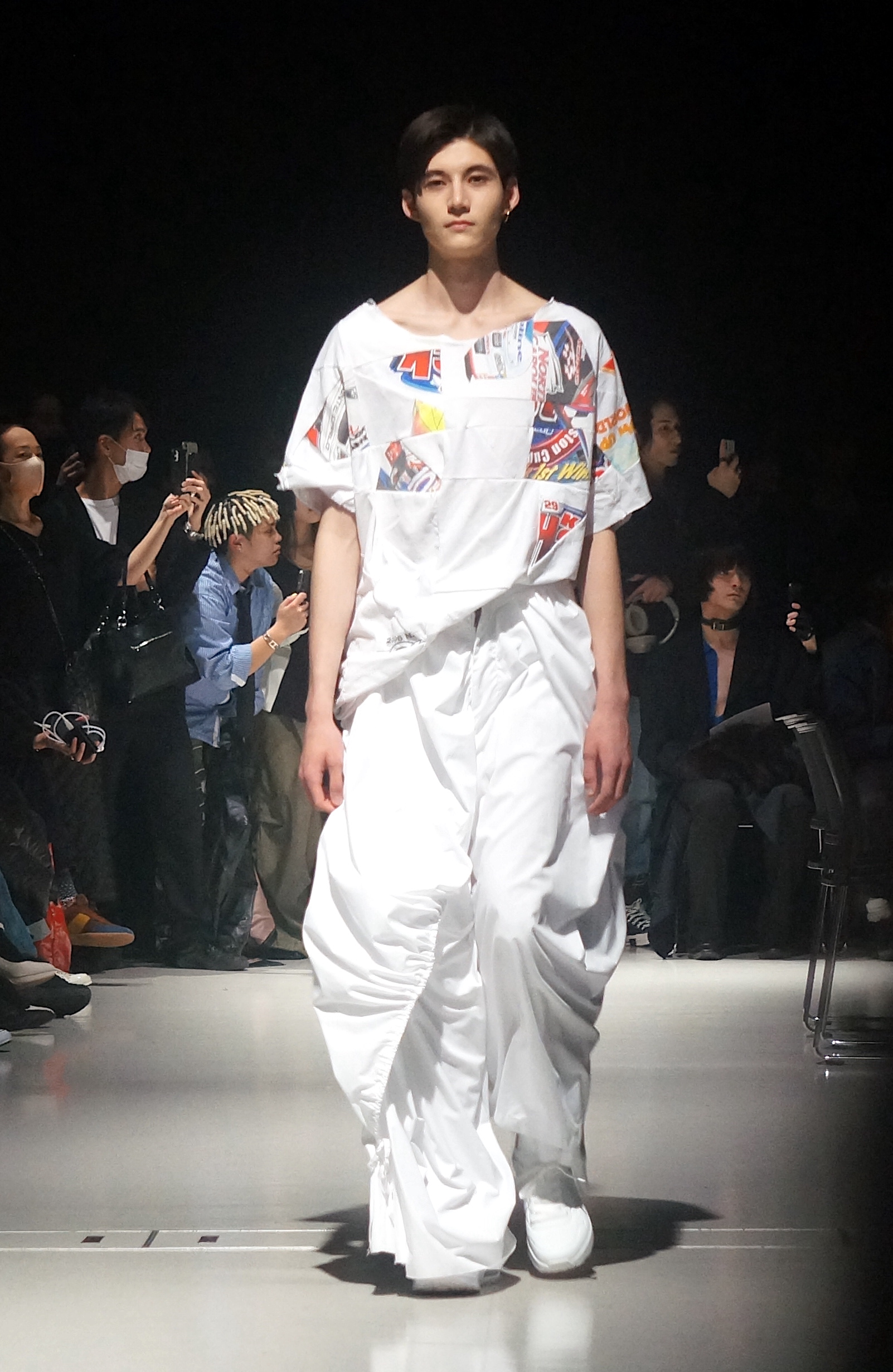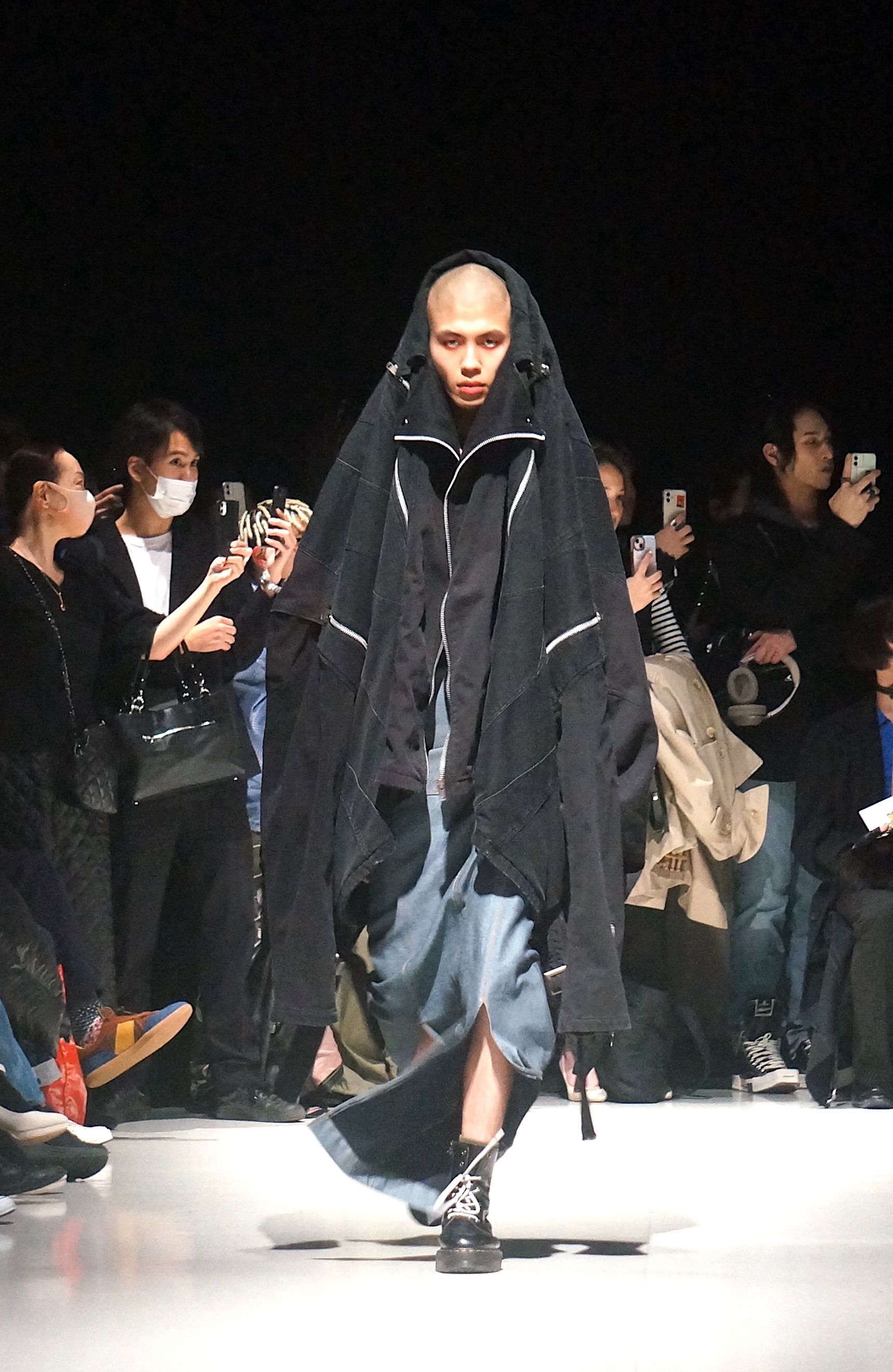 By Jee Young Park
When I woke up this morning having skipped a few days of writing these "reviews," I was oddly ecstatic. There's a perverse satisfaction to breaking deadlines, even if they are arbitrary. Notions of rebellion also reverberated through the
As Years Goes Bys Ablankpage X Edwin A/W '23 collection
.
Tables and chairs were set up cafeteria-style for the runway. It could have been a school or a mall food court. No matter, the setting dictated an ordered social existence that all passers-by rebuffed as they rushed through. There's no rest for the wicked.
Within the realm of deconstruction, anything seems possible. All ideas of what constitutes clothing are up for discussion but clothes form a landscape rife with obelisks, erected to honor longstanding ideas of who we are and what we should be. Once you challenge the idea of a jacket, you challenge the idea of man. So, it's no surprise and not difficult to happen upon meaty ideas to sink your teeth into. Designer and Creative Director Larprojpaiboon Phoovadej and Guest Designer Shun Ishizawa find their footing in "cool" by playing out another time-honored tradition - tearing down and repurposing those obelisks. However, as easily as those ideas are broken into separate parts, it is much more difficult to wrangle them into conclusions.
The designers seem content with a proposition to explore all options as long as the open-mindedness is grounded in craftsmanship--a word that almost always follows "quiet luxury" these days. As logomania and the decade defined by Demna Gvasalia come to a close, the prevailing insinuation is that a maximalist aesthetic is trying to make up for something it's lacking. Sometimes that's true but this time, the turn towards minimalism for meaning seems less revelatory and more of a cowardly stance towards a changing world - falling short of Helmut's subversive turn towards it in the 90s. On the occasion a maximalist approach to garment-making is meaningful, the designer is taxed with the responsibility of handling a broader set of materials plucked out of context. Intellectual humility and technical rigor are necessary (as with minimalism); in exchange, there's plenty of freedom.
With the line (and mind) free to roam, it can cloak human form in myriad references. In the biker jacket transformed into an actual cloak, I saw a jang-ot (장옷), worn by women during the Joseon era. In the pin-striped, multi-sleeved dress shirts, I saw a mudang's color-blocked cuff; the sleeve placements suggest the twirling motion of her ritualistic dance. Then again, maybe I was watching too much Netflix--
Somebody
and the litany of Joseon period dramas--
and relying too much on my own heritage.
Nonetheless
,
I played detective and conducted an impromptu Rorschach test as I tried my best to digest the show. And I'm happy to report the overall texture was
crunchy:
plentiful and satisfying - like biting into a potato chip - a perfectly fried, black summer truffle flavored Torres Selecta Premium Potato Chip.
I found it especially satisfying to see a juvenile sense of humor underscoring the post-truth, post-privacy, post-monoculture world: a pair of high-waisted pants, sitting much too far above the waist. It reminded me of one school drop-off, where I overhead ten-year-olds making fun of how the upperclassman (and adults) wear their pants "up to their throats," fueled by the obsession to elongate their legs in photos for Instagram. Or was it an allusion to the politics of where pants should sit? Eventually, I settled on the following descriptor: They are a caricature of pair of jeans, references smashing into one another as we scroll through the feed. It jeers at our bourgeois pursuit of what is fashionable, prompting us to probe our idols on the runway.
Similarly, I smelled teen spirit lacing the passive-aggressive answer to various trends, such as the Canadian tuxedo, reframed over the eras as "head-to-toe denim", "denim-on-denim", or whatever slightly different but really all the same, variations that popular media shoves down our throats for commercial effect.
An all-denim ensemble layered with yet another, more oversized denim jacket
(perhaps a trompe l'oeil?), conjures the SNL skit with Christopher Walken but instead of "More Cowbell!" he's asking for "More denim! I gotta have more denim!" I find it cheeky, self-aware, and the shades of indigo that are neatly cut and arranged, simply beautiful. The look also highlights Edwin's sustainability initiatives and B-Corp status, a well-known denim brand the designers collaborated with this season.
Despite the overtly juvenile mood, the collection maintains a noncommittal attitude to a specific silhouette or ideology. Moments where form gave way to abstractions - emphasizing an attitude rather than staying true to a recognizable garment created this slant. For example, a red jacket with a reworked sleeve gathered as if it were a bouquet across the chest with its highest point perched on the shoulder. The balancing act reflects where many of the world's youth find themselves - affirming the value of specific parts but unwilling to accept it as it is, as a whole pill to swallow. Perhaps that is the conclusion Phoovadej and Ishizawa come to, to elevate what is brushed off as teenage rebellion into something worthwhile. The show closed with a look featuring a pair of haphazard batwings adorned with illustrations by
Wisut Ponnimit
(a cartoonist based in Bangkok) suggesting that we let our imagination take flight no matter how absurd the exercise may seem in an abject world.